Welcome to Tech Trek @ UC Davis
July 22-28, 2018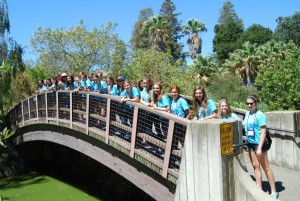 For one week during the summer, approximately 90 soon-to-be 8th grade girls from across northern California arrive on the UC Davis campus to begin their week of discovery and exploration at Tech Trek. The fun, eye-opening week is filled with new friends, new experiences (dorm life and college dining) and learning about everything from Astronomy to Zumba.
A Peek into what Tech Trekkers might experience
Mornings are spent in core classes where trekkers may be found examining lungs and dissecting eyeballs, designing rollercoasters and bridges, engineering solutions and contraptions, coding and developing apps, extracting DNA and creating their own pedigree… or a variety of other possibilities.
Afternoons may be spent taking on the role of a veterinarian or a forensic scientist, or learning about polymers and the chemistry behind sunscreen or about entomology and how bugs are used in agriculture and pharmaceuticals, and more. On-campus field trips may include the Veterinary School and Medical Center and the Mondavi Center for Performing Arts among others.
Evenings are packed with more hands-on activities and workshops, perhaps the most popular is the Professional Women's Evening, where women in STEM-related careers, such as civil or mechanical engineering, epidemiology, and forensic science, share their experiences with the campers, and the girls have a chance to ask questions and learn about a range of careers.
Campus Life:
All Tech Trek campers live in one of the dorms on the UC Davis campus, with Tech Trek being the only group assigned to that dorm for the week. True to college life, girls are assigned a roommate who they have never met, with two girls per dorm room. Upon arrival on the first day of camp, the girls are given their dorm room and core class assignments. AAUW volunteers serve as "Dorm Moms" assigned to oversee a group of about ten of the campers. Each Dorm Mom keeps a keen eye on her "girls" throughout the week. In addition, camp staff includes co-directors and a medical professional who are at the camp 24-7 to address any emergencies or health concerns. Tech Trek campers and Dorm Moms go to the UC Davis dining commons together for breakfast, lunch, and dinner.
About UC Davis
The Tech Trek program at UC Davis opened in summer 2011. Located in Davis, California, just west of Sacramento, UC Davis encompasses 7,309 acres of land, making it the largest UC campus in terms of land.
One of the nation's top public research universities, the University of California, Davis has earned its stellar reputation through outstanding students and a breadth of academic programs, global leadership in sustainability, and a commitment to addressing society's needs through innovative research and public service.
UC Davis offers more than 100 undergraduate majors and 90 graduate programs and a complete range of professional degrees. There are four colleges and six professional schools, not the least of which is the nationally known School of Veterinary Medicine. Campus enrollment is approximately 35,000.
U.S. News & World Report ranks Davis ninth in a list of top public universities. UC Davis' faculty members have earned great accolades in the academic world and beyond. This includes three presidential medals, a fellow of the Royal College of Physicians, a Guggenheim fellowship, and a member of the French Academy.
Would you like more information about Tech Trek @ UC Davis?
Contact Susan Wheeler and Martha Rees, Camp Co-Directors, at techtrek-davis@aauw-ca.org. (Please include TT or Tech Trek in the subject line, and indicate your city in the text.)